THE BILBOKID BAROMETER
Parents and Internet


Edition 2022
As every year, Bilbokid publishes its barometer. "Parents and the Internet" reviews the purchasing behaviour of parents of children aged 0 to 11, on the Internet and social networks. With key figures and the latest trends, the Bilbokid-IDM Families Barometer reveals all the data needed to refine the digital strategy of children's brands.
PARENTS and online shopping

Shopping online is a well-established habit for most parents, especially mothers. Although fathers are still buying a little less online, more and more of them are converting to this mode of shopping.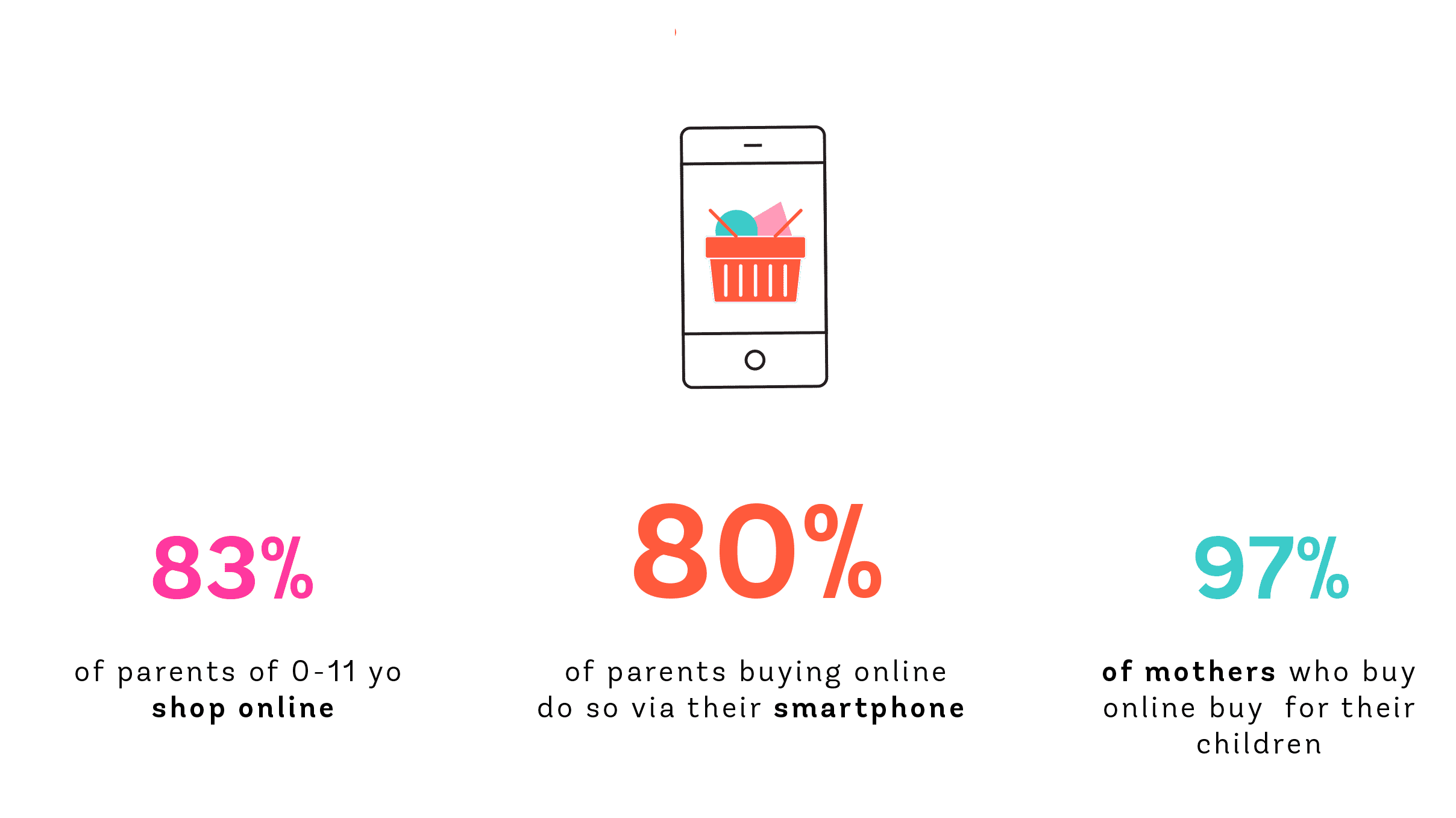 Parents buying from their smartphones
The vast majority of parents use their smartphone to shop on the web. Its use is even massive among the youngest parents (under 35). Older parents (over 45) still prefer the computer.
80% of parents shop on the web from their smartphone,

87% of parents under 35 use it,

75% of parents over 45 prefer the computer.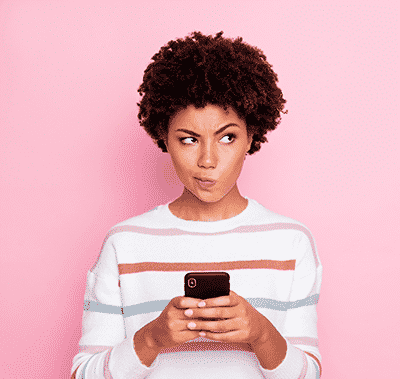 What products do parents buy most online ?
Parents buy a wide range of children's products on the web. Most buy games and toys, as well as clothes. Next come books, hobby supplies, furniture and decorations for the nursery. They also buy products that are frequently renewed : hygiene and care products for babies and children, and baby food.
Games and Toys : 98%,

Children's clothes : 92%,

Books : 85%
Arts and Crafts : 80%
Furniture and decoration of the room : 78%
Baby and child hygiene and care : 60%
Infant food : 51%
Quels supports consultent les parents avant de passer à l'achat ?
Purchases are carefully considered. Before buying online, parents consult different digital media or visit a shop to narrow down their choices.
• Online consultations of reviews : 95%,
• Use of product comparators : 83%,
• Visit the brand's website : 82%,
• Visit in shop : 76%,
• Social Networks : 61%.

Frequent cart abandonment !

Carts abandonment concerns 94% of parents. There are many reasons for this : delivery costs too high, out of stock, missing size or colour, delivery times too long, price too high or no promotion.
• Delivery cost too high : 70%,
• Products out of stock : 59%,
• Delivery times too long : 52%,
• Missing size or colour : 52%,
• Price or no promotion : 52%.
PARENTS and social networks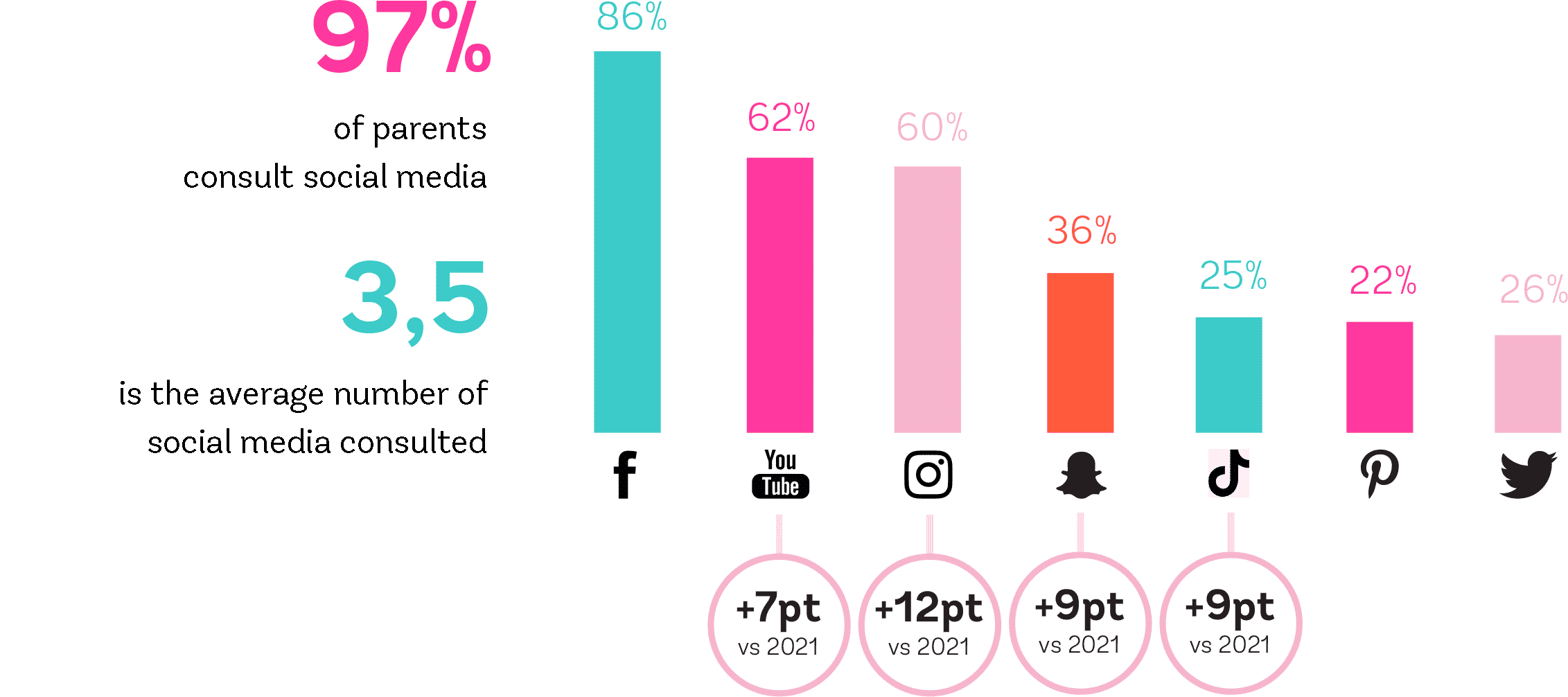 Parents massively consult social networks (97%). They even consult several of them, with a preference for Facebook, which is still dominant, followed quite far behind by YouTube and Instagram, which are on the rise. Next come Snapchat and TikTok, also on the rise. Finally, Pinterest and Twitter close the gap. The networks remain fairly gendered. On one side, Facebook, Instagram and Pinterest for mothers. On the other hand, YouTube, Twitter and TikTok for fathers.
Networks for every parent profile !
Certain categories of parents are over-represented on certain social networks. For many parents, using Facebook and Instagram is a daily ritual: 80% of parental users consult them every day.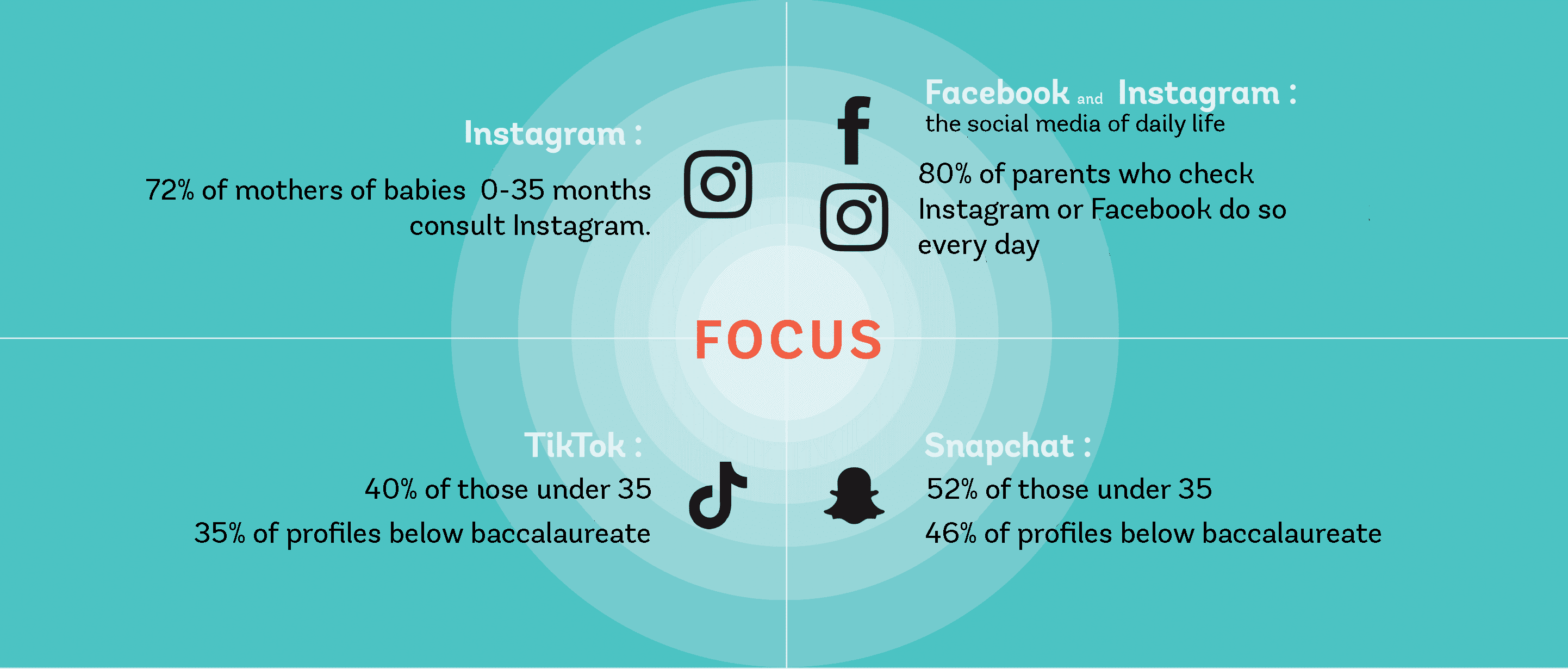 It is also important to note that

TikTok

continues to grow this year (+9 pts vs 2021) among the social networks used by parents. However, it is particularly young parents who are interested in it !

– Estelle Schomann –
Brands on social networks
Parents like to follow baby-child brands on social networks, preferably on Facebook. Almost half follow brands on Instagram, but not only baby-child brands.

• parents following baby-child brands on social networks : 66% (+13pts),
• parents following baby-child brands on Facebook
: 62%,
• parents following brands on social networks
: 48% (+10pts).
Get the full infographic for free !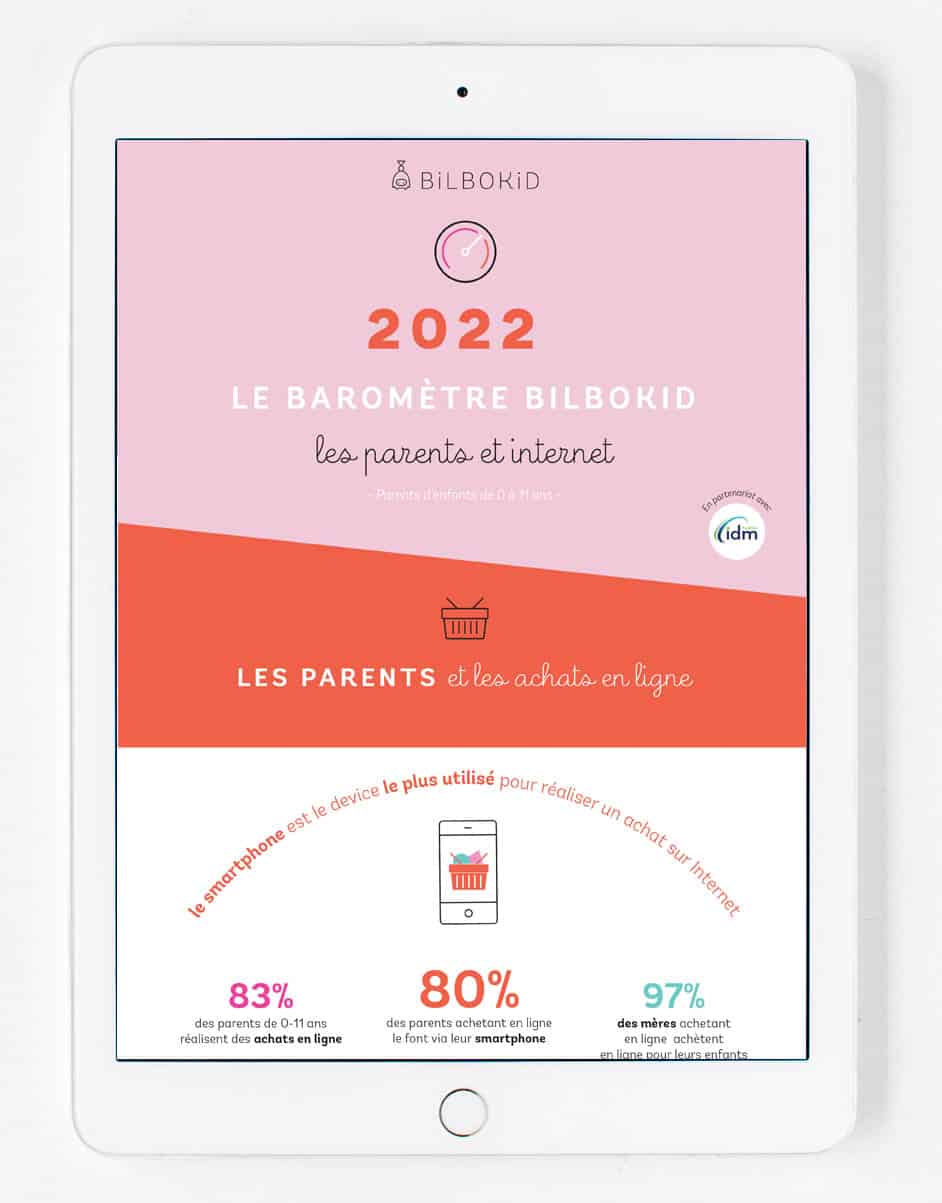 THE IMPACT OF COMMUNITIES
on purchasing behaviour



Parents who shop online for their children almost always consult reviews. They do so primarily on Google, on marketplaces such as Amazon or La Redoute, or on the brand's website.
Almost half of parents are responsive to influencer's recommendations, especially fathers.
- consultation of reviews : 95%
- recommendations of influencers : 45%

Why do parents consult consumer reviews ?
When consulting reviews, parents want above all to be reassured about the quality of the product, to check that it is suitable for their needs. They appreciate feedback from users. These hesitant parents are above all looking to remove a doubt about one of the product's characteristics or to obtain additional information. The brand's opinion is also important to help them make the right choice, especially for fathers.

• quality of the product : 77%,
• product adapted to needs : 65% (71% des mères),
• user feedback : 65%,
• characteristics of the product : 56%,
• additional information : 54%,
• be reassured by the brand : 44% (55% of fathers).
Why are reviews important to parents ?
Reviews play an important role in parent's buying journey. They do not hesitate to reconsider their purchase intention after reading a review. Parents are also very often contributors. They frequently write a review following a purchase. They also do so on social networks.

• 98% of parents have already reviewed a purchase intention after reading a review ;
• 83% have already written a review ;
• 1 in 2 has already left a review on social networks, => 1 in 5 does so often.


More and more parents are following at least one influencer. They follow their recommendations, even if it's about a product they didn't know before. Fathers are particularly responsive to their advice.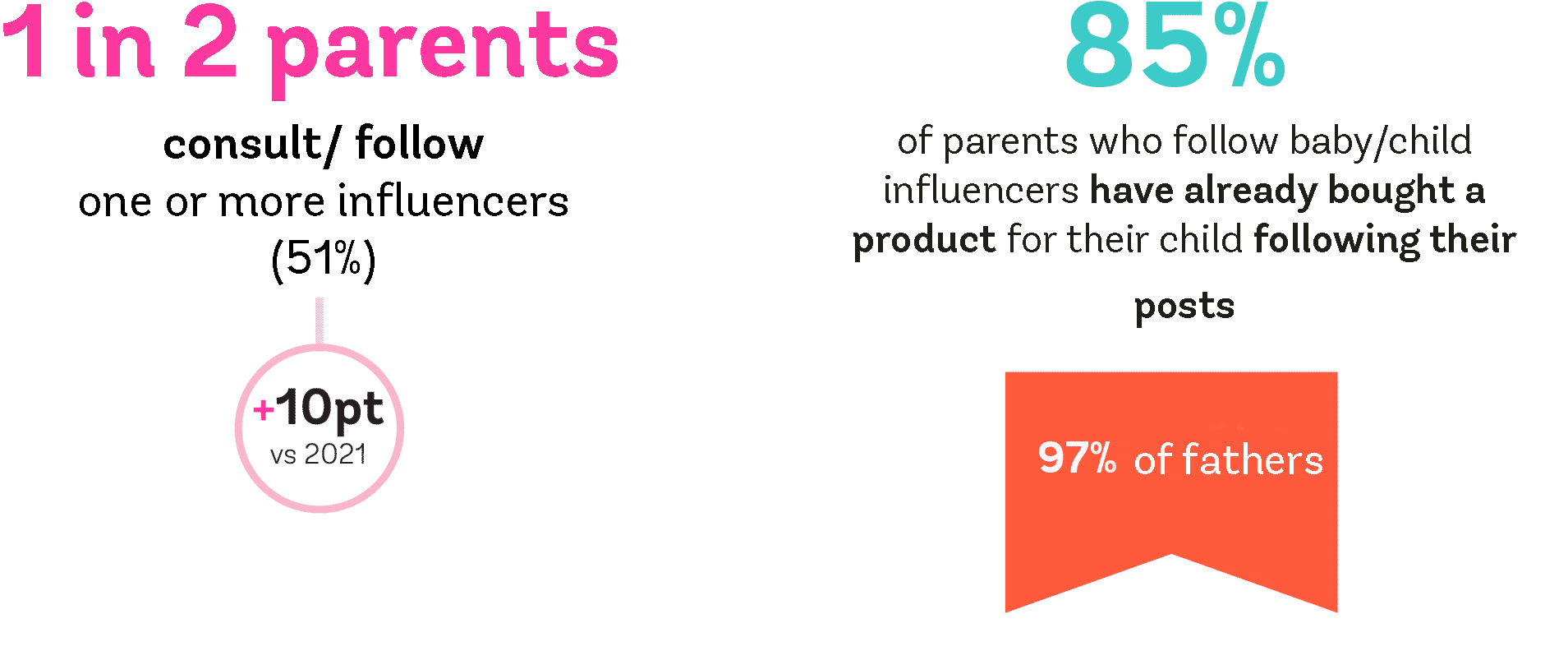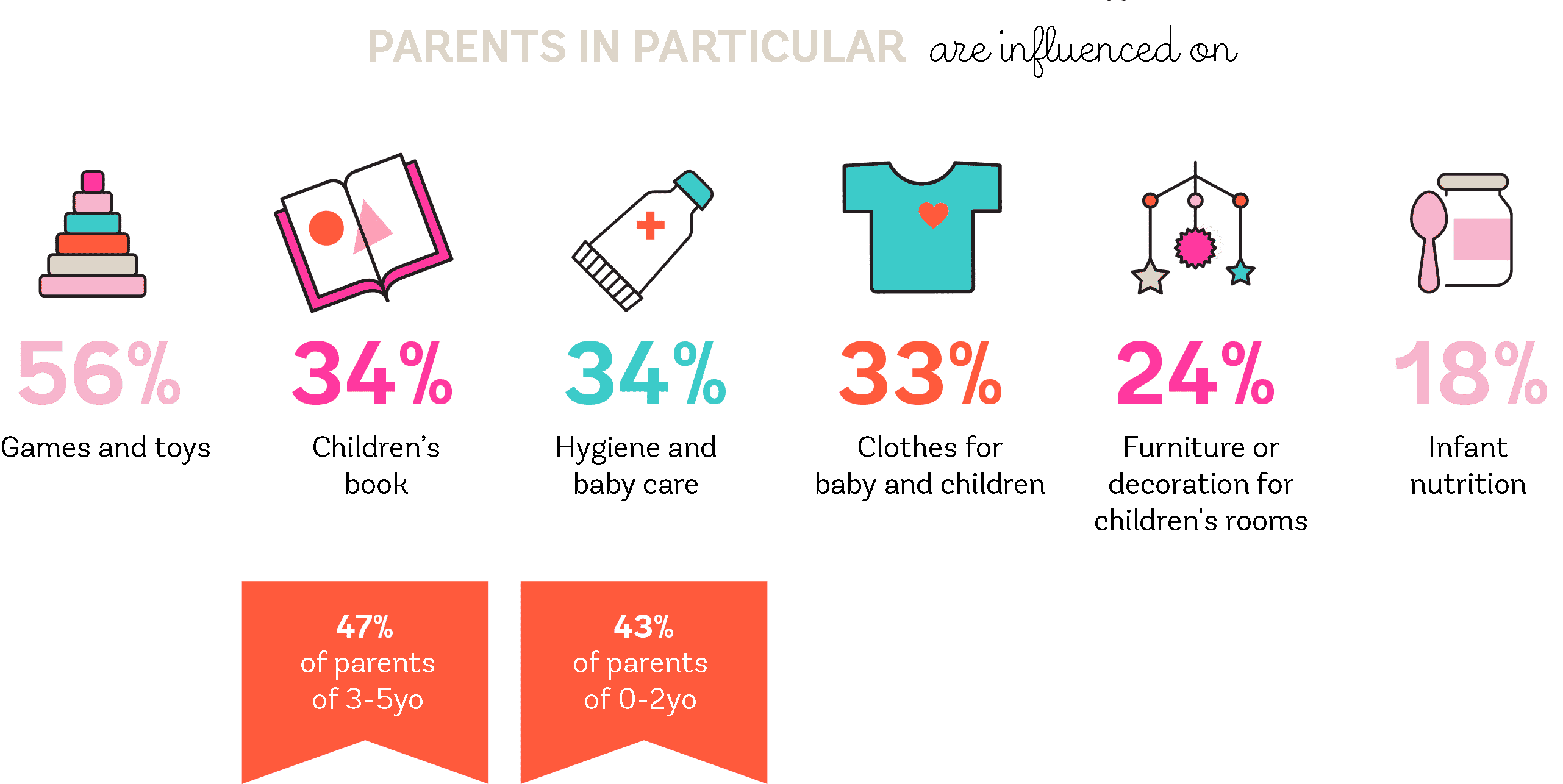 Influencers and parenting communities are impacting parents more than ever before in their online purchasing actions for their children and at all stages of product consideration. Influencer marketing is becoming a direct conversion lever.
Get the full infographic for free ! (FR version)
Want to see for yourself ?
Our office
5 rue Baudin
34000 Montpellier


Contact us

Standard :
+33(01) 86 86 31 86